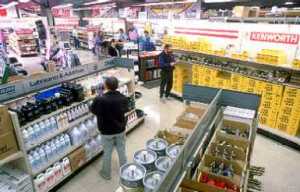 At KTC we strive to earn our customer's trust and loyalty by supplying top quality parts sourced from top quality suppliers.
By building solid relationships with our suppliers we are able to provide our valued customers with everything that they need.
Competitive pricing, fast delivery, on-site training are only a few of the aspects that will allow our customers to realize the value of building a lasting relationship with KTC.
Our belief is that top quality customer service is a right that every customer deserves and we strive to achieve this goal.
With 9 locations to serve you, KTC is your source for quality parts & good value.
Part Specials
Suppliers
AC/Heater
Air to Air/Radiators
Air Dryers
Axle/Axle Parts
Batteries
Bearings/Seals
Brake Components
Cab Accessories
Cargo Controls
Chrome Accessories
Clutches
Electrical Components
Engine Brakes
Engine Starting Aids
Engine
Exhaust
Fan Clutch
Fifth Wheels/Parts
Filters
Instruments
Interior
Lamps
Mirrors
Miscellaneous
Miscellaneous 2
Mudflaps/Hangers/Fenders
Power Take-Off
Radios
Safety Products
Seats
Shocks/Air Bags
Steering Gear and Pumps
Suspension/Parts
Transmissions
Trailers
U-Joints/Driveline
Wheels/Drums
Wipers