Kenworth Truck Centres

In 2016 Kenworth Truck Centres of Ontario (KTC) celebrated its 36th anniversary as a Kenworth dealer.
As a privately owned business we have been serving the Automotive and Heavy Duty industries in the Province of Ontario for over 50 years. We have grown from one location in 1980, to 9 locations today.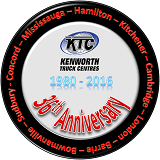 Everyday our employees work hard to build trust and partnerships with our customers, partnerships that add value for all of our stakeholders.
Across our 9 locations we offer new and used Kenworth trucks along with superior service and a full complement of original and 3rd party replacement parts.
We are also a PacLease affiliate through which we offer Full Service Leasing, Managed Maintenance Lease Programs, contract maintenance and daily rentals.
Our dealerships offer a full inventory of New and Used trucks from Medium Duty, Class 5-7, through to Heavy Duty Class 8.
As a Heavy Duty truck dealer we go above & beyond to earn your business by adding value with our complete Kenworth product offerings, premium 3rd party parts offerings, and fully training service personnel.
Our entire management and employee teams at KTC thank you for your interest in our company, your continued business and the opportunity to servicing all of your HD truck needs.
Truck Specials